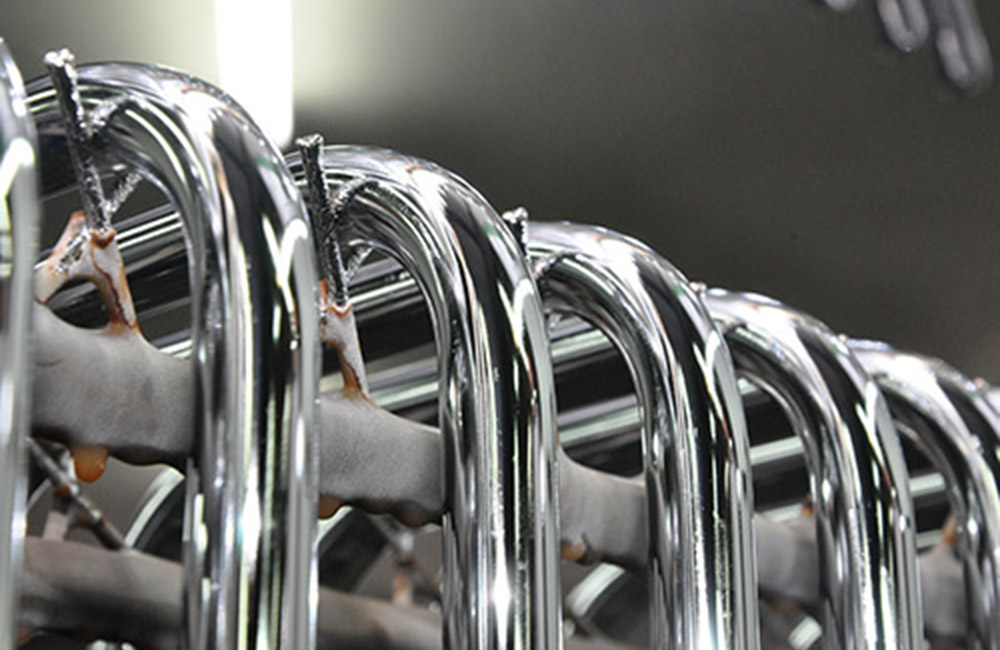 Polished chrome plating
Frequent use is made of polished chrome coatings, since they combine several positive properties. In addition to good corrosion and anti-wear properties, the work piece is given an appealing decorative appearance by the polished chrome plating.
 This special appearance also gives simple steel components a premium character. mbw generally works with the double nickel-chrome process. The coating structure here consists of a semi-polished and a polished nickel coating, as well as a thin chrome coating. From 2021, however, the conventional chrome plating process with chromium trioxide may no longer be used for certain applications (ECHA prohibition). This will be replaced by the expensive trivalent chrome plating process. This technology is now already being used in series production within the mbw group. This process is predominantly used for steel parts in the automotive industry. These components are subject to the individual standard requirements with regard to coating thickness, corrosion resistance, wear resistance and adhesive strength. A practical example of polished chrome plating, e.g., can be shown with the headrest supports of a vehicle. These should look appealing, but must also be able to withstand high loads.
Hard chrome
Hard chrome is a chrome coating, which, depending on requirement, is applied in a thickness of 10 to 500 µm on the raw part. Hard chrome is characterised by a high degree of hardness, high temperature resistance and high abrasion resistance. This coating is therefore a popular application in the automotive field. Coatings which are hard chrome plated have excellent wear protection and high homogeneity
Possible post-treatments